5" x 7" print mounted to 11" x 14" $95 (framed $155)
8" x 10" print mounted to 14" x 17" $115 (framed $205)
11" x 14" print mounted to 16" x 20" $165 (framed $275)
16" x 20" print mounted to 24" x 28" $215 (framed $415)
8" x 10" portfolio set (8 images) $645
Prints are fiber-based, selenium toned and archivally washed for permanence, then stamped, editioned and signed. The mounting boards use Light Impressions bright white 100% buffered cotton fiber. These are archival museum-quality mounts and are the best available - these prints will last a lifetime if treated with care.
Framing option is available: prints are matted, mounted and presented in fully archival, custom aluminum frames (choice of either German silver or black).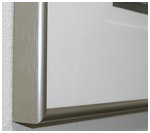 German Silver Black
A portfolio of 8"x10" images is also available. These are mounted to 14"x17" mats and come in an archival presentation box.
The sizes available for a print are somewhat determined by the negative format; a 4"x5" negative will enlarge well up to 16"x20", but a small 35mm will only really remain at high quality up to 8"x10". Most prints are available in all sizes unless indicated. For any special requests, please feel free to contact me. All prints and frames are made to order - please allow up to 4 weeks for delivery.